Blocked Drain Plumbers — East Melbourne
Do you need the help of a blocked drain plumber for your East Melbourne home or business? Then you need help from Richmond Plumbing.
The team at Richmond Plumbing has extensive expertise across a range of domestic and light commercial plumbing services. With over 50 years' experience in the plumbing industry, there's no job too big or too small for us here at Richmond Plumbing. Our hardworking team knows their way around any plumbing problem you may be having, and can get the job done right.
Blocked Toilets or Kitchen Sinks Are No Problem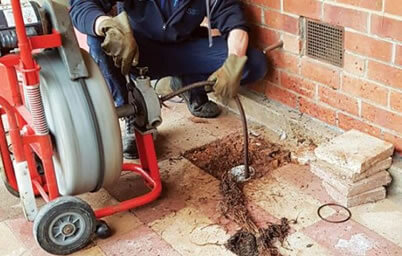 We have a team of experienced and professional drainage plumbers, ready to unblock any drain in your home or commercial setting. Armed with up-to-date and powerful plumbing equipment, we can unblock your drain swiftly and efficiently, letting you get back to your day.
We start by locating and assessing the blockage. Often, we find this is either a build-up of household waste, like soap scum and hair, or that tree roots have grown into the pipe over time.
We don't need to dig pipes up to find this out though. All we need is our CCTV drain camera to locate the issue and come up with the most appropriate solution for the situation at hand.
This specialist camera can be fed through your pipes while transmitting video back to our trained plumbers.
Once we know what the blockage is, we can use a high-pressure jet cleaner or sewer machine to break it up and flush it down the pipe safely and efficiently.
Additional Plumbing Services
But there's more to Richmond Plumbing than unblocking drains. We also offer a range of residential and light commercial plumbing services, including:
Repairing and replacing pipes, including sewer and stormwater pipes
Detecting leaks
Installing water filters
Installing rainwater tanks
Installing plumbing systems in new builds
Providing plumbing inspections
Get Your Drains Unblocked Today
Book a service today to get your drains unblocked by the experts at Richmond Plumbing. We also take care of the hot water system. Contact us on 0418 397 667 or make a booking through our website.