Blocked Drain Plumbers – Fitzroy
Blocked drains aren't just inconvenient. They can lead to serious and costly water damage and unsanitary conditions around the home or at work. At Richmond Plumbing, we have an expert team of blocked drain plumbers ready to handle any job in Fitzroy and its surrounding suburbs.
Our team is fully equipped to handle any and all blocked drains including:
Blocked toilets
Blocked kitchen sinks
Blocked bathroom and laundry drains
Stormwater and sewerage pipes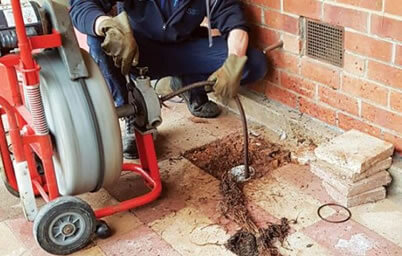 We are fully equipped with the latest state-of-the-art technology including CCTV drain cameras, sewer machines and high-pressure jet cleaners. Our team will locate and assess the blockage before determining the quickest and most cost-effective way to remove the obstruction. In the majority of cases, we can remove blockages using sewer machines and jet cleaners, preventing the need for costly excavation to assess pipes.
For more serious blockages, including cracked or collapsed pipes and major tree root infestations, we can access and replace damaged pipes and even upgrade existing pipes if necessary.
Common Causes of Blocked Pipes
These are most common causes of blocked pipes:
Tree roots infiltrating pipes or shifting or dislodging pipes
Soft blockages like toilet paper
Foreign objects
Clumping matter like hair, grease, silt or debris
Once your pipes have been cleared, our team will provide you with the tools to avoid these same problems from happening again. Regular maintenance and making sure that certain objects don't go down your drains can help prevent blockages from reoccurring and wasting your time yet again.
Contact Richmond Plumbing Today
At Richmond Plumbing, we have over 50 years' experience providing expert plumbing services by expert plumber to homes and businesses in Richmond and the surrounding suburbs. We offer a full range of residential and light commercial plumbing services, from unblocking drains and fixing leaking taps, right through to hot water system installation and plumbing for new house builds and renovations.
Wherever you are in Fitzroy, whatever your plumbing requirements, you can trust the team at Richmond Plumbing. Give us a call today on 0418 397 667 or use our website to contact us online.